Documentation > User Guide > WITSML Browser
Hierarchy displays the WITSML data object hierarchy of existing data in the server. The hierarchy will be populated with a list of all Wells the first time the Hierarchy tab is navigated to after a server connection.
Hierarchy
Provides a tree view hierarchy of data in a WITSML Store. To expand a node, click on the left arrow or double-click the name.
Hierarchy Context Menu
Right-click a node to display a context menu with the following options: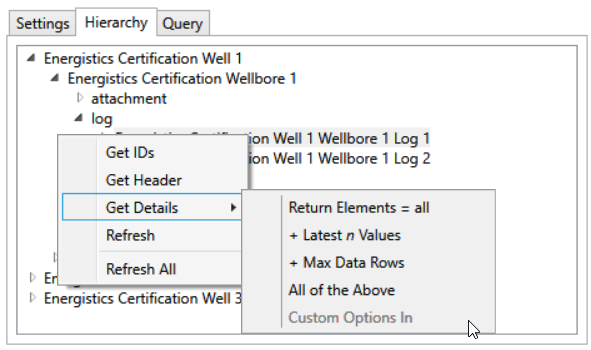 Get IDs - query the selected data object IDs

Get Header - query the selected data object header; applies to growing objects only

Get Details - query the data object details using options in of "returnElements=all"

The following sub-menu items query data object details using the specified options in parameters whose values have been entered in the Settings tab.

Return Elements = all - "returnElements=all"
+ Latest n Values - "returnElements=all;requestLatestValues=n"
+ Max Data Rows - "returnElements=all;maxReturnNodes=n"
All of the Above - includes all options mentioned above
Custom Options In - custom options entered in Settings tab
Refresh - query the selected node and refresh the node and it's children

Refresh All - query the server and refresh the hierarchy